For the residents of Gwangju and to most Koreans, May 18, 1980 is a sacred day. It was this date that people offered their lives for democracy. The May 18 Memorial Foundation is an expression to commemorate and continue the spirit of struggle and solidarity for peace and human rights throughout the world. Also, it aims for the peaceful reunification of Korea.

Since its establishment in 1994 as a non-profit organization by the surviving victims of the uprising and the rest of Gwangju citizenry, the foundation has carried out numerous projects that include organizing memorial events, establishing scholarships, fostering research, disseminating public information, publishing relevant materials, dispensing charity and welfare benefits, building international solidarity, and awarding the Gwangju Human Rights Prize.

For the first time the foundation is sponsoring an International Internship Program on Human Rights. The goals of the program are: to improve efficiency of International Solidarity Task by recruiting human rights organizations, activists, researchers in Asia, America and Europe and to promote Gwangju as an Asian Human Rights Movement hub. Also, the internship program is seen to contribute to the development of democracy and human rights throughout Asia. Interns will be given a chance to learn about and experience the history and process of the development of human rights and democracy in South Korea. They will be conducting researches and public presentation on topics related to human rights, peace and democracy.

The foundation has five interns from four different countries that include Nepal, China, Indonesia and the Philippines. These interns are NGO workers and human rights activist in their countries and will attend the program for the next 10 months that will culminate in May 2006.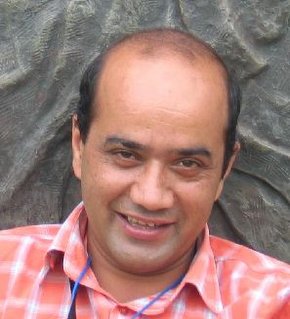 From Nepal our intern is Mr. Ram Prasad Sharma. He is the first among the interns to arrive in Gwangju City last May 2005. He has been working Advocacy Forum, Nepal since 2001 as a Advocate Legal Officer. His main responsibilities are monitoring detention centre and make detainees aware of their legal and human rights. He also documents cases of extra judicial killing, disappearances, abduction and torture from both the state and rebels groups. He also provides legal aid for detainees by filing the habeas corpus case in courts in their favor them. To get to know more about Mr. Sharma please follow link to Q&A with Interns.



Our Chinese intern is Ms. Xiaolin Pan, a graduate student of International Law at Peking University Law School. She is a member of the university's Research Center of Human Rights Law School (www.hrol.org). The Research Center publishes periodicals and journals on international treaties, conferences proceedings and other basic information on human rights. The center also offers a Master's Degree Program on Human Rights and Humanitarian Law in cooperation with the Raoul Wallenberg Institute (RWI) of Lund University of Sweden.





Indonesian representatives are Ms. Agnes Theodora Gurning of IKOHI and Mr. Mustawalad of KontraS. Ms. Gurning is coordinator of their organization's Data Base Division. IKOHI is a human rights victim- based organization that has three main programs campaigns, members' empowerment (social, economic, psychological counseling) and data base. Their organization hopes that she will accumulate wealth of experience from the Korean internship programme. She will be in-charge with International Networking on Human Rights when she returns to Indonesia.




Mr. Mustawalad came from Aceh where he work for KontraS as a investigation, data base and research officer. He has been with the organization since 1998 but was transferred to Jakarta in 2003 when martial law was declared in Aceh. Military prevented NGOs like KontraS in doing their job especially monitoring human rights abuses. With the signing of Memorandum of Understanding (MOU) between Free Aceh Movement (GAM), and the Government of Indonesia (GoI) last 15 August 2005, at Helsinki, Finland, he looks forward of walking again freely in his beloved native land. He is interested to learn the Korean experience of sending high profile human rights violators to court, awarding compensation and delivering justice to human rights victims and various campaign strategies that will help facilitate peace process and development in Aceh.





The invitation to Philippines was extended to the Community Organizers Multiversity (CO Multiversity). A non-government organization (NGO) that seeks to enhance the capacities of community organizers, people's organizations and other development organizations by creating and nurturing innovative, culturally-sensitive and empowering community processes in partnership with other stakeholders. With its enhanced programs, CO Multiversity aims to achieve and carry out its distinct role and mission in empowering among others marginalized communities. CO Multiversity sent last July 8, 2005 Mr. Pedro E. Rahon, a program assistant staff to join the internship program. As an intern he will be doing researches on the plight of Filipino migrant workers in Korea, Filipinas married to Koreans, and the Philippines-Korean lessons and experiences in solidarity and study exchanges.


(Note: this article was made a long time ago and never got posted online so it is posted here)